Yoon Eun Hye and Park Yoo Chun
I Miss You
is frustrating me at this point. There is a lot that should be going on with Jung Woo, Soo Yeon, and Hyung Joon's odd threesome, but I feel as if we have reached an impasse. Jung Woo knows Zoe (or Joy? I'm not sure, and I can't tell when they say it) is Soo Yeon, and I think that Soo Yeon knows that he knows who she is, but they are both playing mind games with each other. So far, I don't feel any romantic chemistry between anyone on the show besides Jung Woo and Soo Yeon's mom. They have a sweet, playful relationship, and they truly seem to care for each other.
As far as Jung Woo's persistent pursuit of Soo Yeon, I think he is so concerned about finding her because he feels guilty for abandoning someone who really thought of him as a friend. If any sparks ignite between Soo Yeon and Jung Woo, it would mean she could forgive him for abandoning her with the rapist, and that's a tall order. Also, I have to mention the relationship between Soo Yeon and Hyung Joon. I personally find it very awkward and creepy. The age difference between Yoo Eun Hye and Yoo Seung Ho isn't the only odd thing, it's also the fact that they were raised as brother and sister. From what I can tell (based on Soo Yeon rejecting Hyung Joon's kiss in episode 8), Hyung Joon is in love with Soo Yeon, but she is putting on the show of their relationship to torture Jung Woo. I think this tense threesome is going to become twisted even more in the upcoming episodes, as we find out if Soo Yeon killed her rapist, and if she can forgive Jung Woo.
I didn't get many screen caps for these episodes because I am trying to finish a few more Korean Dramas from 2012 before the year ends. I want to write something epic for the end of the year as a Christmas (or whatever holiday you celebrate) gift for anyone who looks at my blog.
Also...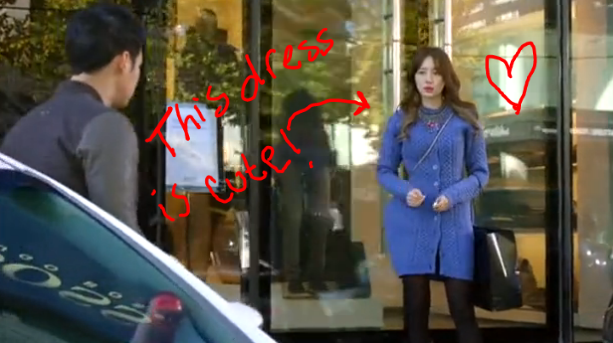 Park Yoo Chun and Yoon Eun Hye
Follow me on Twitter
https://twitter.com/KdramaTherapy
Follow me on Tumblr
http://kdramatherapy.tumblr.com/
Watch I Miss You (Missing You) with English subtitles
http://www.dramacrazy.net/korean-drama/missing-you/