In order to understand where I am coming from with my reviews and lists, I think it is best to explain what attracts me to a drama.
Secret Garden


1. I LOVE (like really) Romantic Comedies. The combination of hilarious antics and Kleenex (or toilet paper if I'm being honest as to what I use to dry my stream of tears) -soaking love stories is my favorite. If I watch a drama that lacks silliness (like
The Moon That Embraces the Sun
) I may love it, but I will usually begin to feel depressed and irritable. So, I usually have to a romcom at the same time to balance my emotions.
Rooftop Prince
2. I enjoy the added tension when a drama includes supernatural elements such as: time travel (
Rooftop Prince
and
Faith
), humans falling in love with non-humans (
My Girlfriend is a Gumiho
and
Arang and the Magistrate
), body swapping (
Secret Garden
and
Big
), and strange memory loss (
Haeundae Lovers
and
The Moon That Embraces the Sun
). I know memory loss isn't supernatural per se, but the way it happens in Kdramas is so unrealistic that I consider to be magical.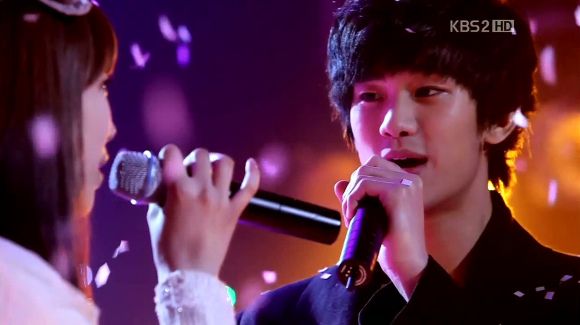 Dream High
3. Kick-ass music is also necessary. I'm not just referring to the OSTs, (though that is important too) but what I really love are music-centered dramas in which the lead actor is a musician outside of that drama also. Dramas about the music industry intrigue me as well (
Dream High
and
Kpop Ultimate Audition
).
The Vineyard Man
4. Believing in the love of the man characters is the difference, for me, between an entertaining drama and one that makes me sob like weirdo alone in my room. My best example of steamy chemistry is Yoon Eun Hye (as Lee Ji Hyun) and Oh Man Suk (as Jang Taek Gi) in The Vineyard Man. Even if they weren't together in a romantic way throughout most of the story, the tension is so strong that I could hardly control my emotions while watching. At one point I had to stand up because I was crying so hard that I couldn't breath. Maybe I'm just weird, like I mentioned before, but feeling so strongly about the main characters indicates a successful drama to me.